Deep Encryption In Windows Kernel Defeats Keylogging Attacks
Your keystrokes = Your identity + Your privacy + Your digital assets
That's why we created KeyScrambler.
The most effective keystroke protection
Encryption Data Kept Local
Your data are encrypted and decrypted on your computer(s) only. They are never sent to our server and are never accessible by QFX Software.
Let KeyScrambler work for YOU.
3 steps. To greater online information security ever after.
1.  Download KeyScrambler.
file size ~1.5 MB;  download time ~1 min. The free KeyScrambler Personal shields everything you type on websites and browser apps from keylogging/malware attacks, known or unknown.
2.  Watch encryption happen.
As you type, you see every key secured before your eyes, in the little green overlay window. This jumble of encrypted keys would give away nothing useful to a snooping keylogger.
3.  Use Tray Icon for quick info and control.
In the Tray Area, the KeyScrambler icon lets you turn the program off/on or select other actions. Its color also changes to let you know, for example, when you're using an app that's not being protected (i.e.,Icon turns yellow).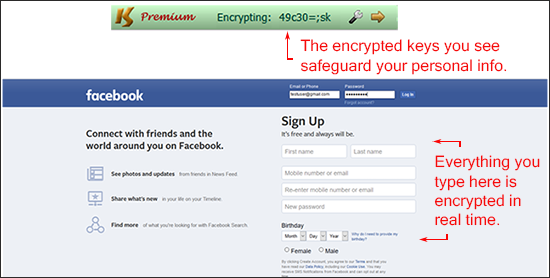 2. Screenshot: Overlay Window displays live encryption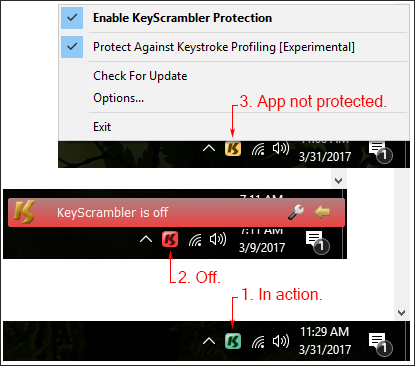 3. Screenshot: Tray Icon's informative colors
Tech Specs
KeyScrambler runs on Windows 11,10, 8.1, 8, 7, 2003, Vista, and XP (32-bit and 64-bit versions). It also supports East Asian languages.
file size ~1.5 MB;  download time ~1 min.
How to Download and Install KeyScrambler »
And get a lot more protection
Build a multi-layered defense with KeyScrambler for better information security.

Last spring, Mickey Cashen, a retired high school science teacher from Brooklyn Park, Md., discovered that an intruder had accessed his older Windows XP computer to send e-mail spam to his friends, despite running an updated anti-virus program.
After spending 50 hours over the next six months researching and evaluating security products, Cashen decided to opt for free Avira AntiVir Personal for basic protection, combined with a free firewall from Comodo.
He also began using WinPatrol, a free program that blocks unauthorized additions to his PC's start-up sequence — a technique hackers use to re-infect your PC each time you boot up. And he relies on not one but three free Web browser plug-ins — AVG LinkScanner, McAfee SiteAdvisor and KeyScrambler — to help protect him from infected Web pages.
"I learned that multiple layers of protection are preferred," says Cashen. "I ended up very satisfied with what I think is a small fortress."